I was reading announcement about Avast for Business that is free for business purpose and at the same time it has management console to centralize management.
I utilize Avast for private purpose and I am very happy about that, I do not know how good is this business version but I consider it a very interesting news so I like to mention it in my blog.
Here they are more details.
https://www.avast.com/business
Avast for Business is free to use for as long as you want and for an unlimited number of admins and devices.
Avast for Business
Business-grade protection starting at a price every business can afford. Free.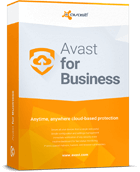 Manage and protect all the devices that power your business, anywhere, anytime from the cloud.
Set it and forget it. With Avast for Business on guard, you can focus on running your business.
Our robust alerting and reporting engine will let you know if we need you.
Easy. Sign up, log in, and download. It's that easy. Protect your first device in 5 minutes or less.